This year, the music released from Japan held a flame to the very best. The country's range of musical releases was vast – of incomprehensible breadth, really – spanning several spectrums of musical genre. Artists broke out, consolidated, resurged, dominated. There were so many narratives, so many trends, hits, comebacks and surprises, that we at The Glow couldn't come close to covering all of it.
Of what we did manage to cover, now we've rounded up into our third annual end-of-year list. 2022's ranking covers pastoral contemporary folk, ear-scraping noise rock, prickly hip hop, chart-topping J-pop and everything in between. Of the hundreds of new Japanese albums, EPs and releases The Glow has managed to get our ears to this year, these 27 were the very best.
Stay up to date with our Best New Japanese Music playlist on Spotify and Apple Music.
27.
Humbert Humbert: Jōbuna watashitachi
(Space Shower Music)
With its striking cover image of two dogs looking at the listener, head-on, the eleventh album from folk pop duo Humbert Humbert was another work of gentle power and steely affirmation. Thanks to their eloquent, colourful lyricism and watertight style of songwriting, the band was already one of the most talked-about and celebrated in spheres of Japanese indie and folk – and Jōbuna watashitachi [We Are Strong] only reiterated the hype. Mutsumi Okazaki
Listen: Spotify, Apple Music
26.
qujioki: JOBUTSU
(Oct Hatch Records)
Tokyo-based underground beatmaker qujioki's JOBUTSU was an immensely collaborative work, featuring musicians and hip-hop crews from all over Japan and including contributions from a total of 16 young rappers. Using heavy and smoky samples, the album had a realism that formed images of people and scenery in back alleys; it conveyed the atmosphere of a desaturated, gloomy Tokyo. It was a marvellous glimpse at the next generation of Tokyo's underground hip-hop scene. Minori Yatagai   Listen: Spotify, Apple Music
25.
Shintaro Sakamoto: Like a Fable
(Zelone)
Shintaro Sakamoto's music has pushed a certain nonchalance in the face of doom since his underground origins with Yura Yura Teikoku. Now deep into a solo career, this vibe remains as entertaining as it is convincing – Like a Fable danced to saturated anxieties in the ebb of a pandemic that shook up everything. Sakamoto's new curiosities included retro drum machines and American oldies in a sound as eminently fashionable as it was personal; it would seem less that the veteran musician was courting new listeners so much as the rest of the world was catching up to his brand of international cool. Toby Reynolds
Listen: Spotify, Apple Music
24.
Takashi Fujii: Music Restaurant Royal Host
(Slenderie Record)
After releasing five albums in five years (!), one might have assumed that Takashi Fujii's well of ideas might be running a little dry – but alas, certainly not. Music Restaurant Royal Host was a richly varied work that charmingly noted the fact that both Fujii and restaurant chain Royal Host both turned 50 this year. One may be tempted to draw comparisons between Music Restaurant Royal Host and the Royal Host restaurant menu. Both are, after all, diverse and colourful – and both of which I love. MO
Listen: Spotify, Apple Music
23.
Boris: W
(Sacred Bones)
In 2022 legendary Tokyo metal trio Boris were as prolific as ever, releasing three albums over the course of the year – but while both Heavy Rocks and fade were in their own ways captivating, it was January's W that left that the most lasting impression. A follow-up to 2021's murky and raw No that swapped punky sludge for earth-moving drones and tense shoegaze, W was looser, more abstract and harder to pin down. Harking back to the kind of quality of some of Boris' finest drawn-out post rock works (such as 2000's Flood and 2003's Feedbacker) W showed that Boris' prowess across several realms of heavy music is as unflinching as ever. Ed Cunningham
Listen: Spotify, Apple Music
22.
Yutaka Hirose: Nostalghia
(Arcangelo)
A continuously evolving digital landscape has allowed buried pockets of music to resurface in unexpected parts of the world; particularly memorable were the works of Japanese environmental music that spread around the world through YouTube uploads and re-masterings. Yutaka Hirose's Nova, recorded in 1986, reached an entirely different listener upon its reissue in 2019; with Nostalghia, the sound designer retook the reigns and released his first new work in 36 years. The album's re-purposed recordings, excellently mastered by Taku Unami, were dazzling space-time collages, pure images of nature punctured by noise. The free jazz influence cited by the work's liner notes was felt in improvisation uncharacteristic of the historic body of environmental music. Rather than releasing something purely archival, Hirose's choice to reconsider these recordings crystallized a work with no dull edges. TR
Listen: Spotify, Apple Music
21.
UTERO – Nemurenu yoru no kimi no tame
(Self-released)
Sapporo-based artist UTERO's debut EP Nemurenu yoru no kimi no tame [For You On Sleepless Nights] mixed up a huge range of genres. "froozen girl" flouted ambient pop smattered with fluttering bass beats, "moonstar" collaborated with indietronica artist Cwondo and "kuuhaku [blank space]" dived into noise pop with South Korean shoegazer Parannoul. Nemurenu yoru no kimi no tame spanned hyperpop to shoegaze, all tied together by UTERO's ethereal vocals, pop sensibilities and cohesive artistic vision. Matthew Gilligan
Listen: Spotify, Apple Music
20.
Jun Miyake: Whispered Garden
(Yellowbird)
Whispered Garden was at once deeply focused and freely roaming – each of the sixteen tracks brought an enormous sound right up to the ear before moving on to something completely different. On "Hollow Bones", this was a dark fantasy with harp and soaring vocals; on "Counterflect", violins competed with Flamenco guitar; on "1979", jazz flugelhorn. Travelling between Tokyo, Paris, New York, Rio and Barcelona, Miyake's album conjured a world with borders so close you stumbled over them, music so rich you never wanted to leave. But were these songs— like much of Miyake's work – to be used as a soundtrack, an employer would be hard-pressed to offer something sumptuous enough for Whispered Garden. TR
Listen: Spotify, Apple Music
19.
doooo: COLORFUL
(MOTHER FACTORY)
Producer, DJ and SUMMIT label artist doooo's COLORFUL was as vibrant as its title suggests, a hip hop album that featured celebrated rappers like BIM, VaVa, JUBEE, in-d, Chinza DOPENESS, dodo, MonyHorse and MUD. dooo's signature catchy but slightly disturbing beats like those of "BOOM", "Yadori" and "Enma" were sublimated in a better, creepier sense by collaboration with such richly expressive rappers. On the other hand, the songs with Creative Drug Store, a group to which dooo also belongs, were refreshing and emotional – COLORFUL as a whole was well-balanced. MY
Listen: Spotify, Apple Music
18.
Kicell: Negoto no Jikan
(Kakubarhythm)
On Negoto no Jikan [Sleep Talk Hours], Kicell reflected on time and the earth over the meandering vibrations of a musical saw – listening to the brothers' cover of Wataru Takada's "Maguro ni Iwashi [Sardines to Tuna]", one may recall Takashi Murakami's championing of the band's songwriting in 2004. The band never rushed – there was a sort of golden patience in the EP's individual performances, drumming soft and precise, guitar meticulous yet without pretence – but there was a keen commitment to perfection that has clearly trimmed anything less than. TR
Listen: Spotify, Apple Music
17.
Yurufuwa Gang: GAMA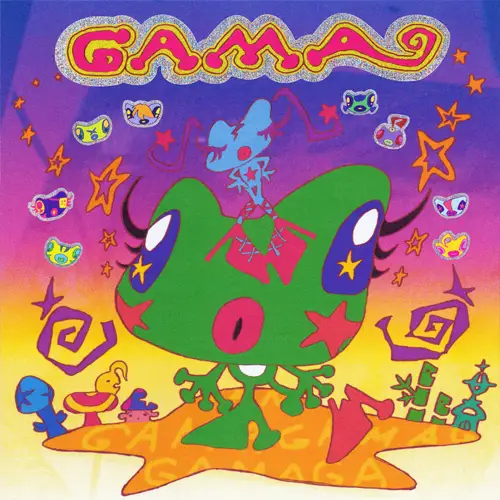 (YRFW_LTD)
Coming four years after their previous album Mars Ice House II, Yurufuwa Gang's third full-length GAMA (which is a title derived from the toadstones on Mount Tsukuba near Tsuchiura, Ryugo Ishida's birthplace) was perhaps their most conceptual and challenging work. The past few years have seen Yurufuwa Gang explore their own path, releasing not only hip-hop but also trance releases; participating in raves and holding their own events. This album, also produced by long-time collaborator Automatic, was characterised by spirited and rebellious songs that felt like the culmination of the group's recent accomplishments. MY
Listen: Spotify, Apple Music
16.
Haru Nemuri – Shunka Ryougen
(TO3S Records)
International acclaim for the distinctive blend of noise rock, hip-hop and J-pop of Haru Nemuri's 2018 record Haru to Shura [Spring and Fall] transformed her into one of the most recognisable names in contemporary alternative Japanese music. This year's Shunka Ryougen [loosely Setting a Field Ablaze in Spring] was a grandiose, raging epic and a worthy successor to Haru to Shura. On Ryougen Nemuri stripped back and deconstructed her sound. Here she delt heavily in ideas of despair, frustration and self-destruction – and yet, despite it all, came out with a closing message of love, acceptance and resilience in the face of the struggles of modern life. MG
Listen: Spotify, Apple Music
15.
Tohji: t-mix
(Self-released)
Perhaps it is somewhat unsurprising that in a year when Japanese hyperpop hit its zenith, when trance returned to mainstream clubs and cloud rap continued to find widespread critical appreciation, Tohji found his moment. The t-mix mixtape was his most ambitious and complete project so far, a work that combined personal artistic growth (building upon the individual progressions of punchy trap debut Angel and texture-heavy follow-up KUUGA) with a roster of global talents (featuring Bladee, yeule, Mechatok and Palmistry). The result was as aloft and ungraspable as it was attractive, addictive; a record that pitched Tohji as one the global cloud rap and hyperpop scenes' most exciting artists. EC
Listen: Spotify, Apple Music
14.
kZm: Pure 1000%
(De-Void*)
On the face of things, kZm's Pure 1000% was outright provocation: a pinball machine pinging between hardcore hip-hop, gleaming trap, auto-crooning R&B, murky cloud rap and flushing drone. But as a whole, it totally worked. Given continuity on many of its tracks by the washed textures of psych trio Gliiico, Pure 1000% never felt unsettled or unfocused – which, given its immense range of sounds, made it all the more impressive. For an artist whose principle intention seems always to remain in flux, to continue testing himself and his listeners, it's a remarkable achievement. EC
Listen: Spotify, Apple Music
13.
Shuta Hasunuma & U-zhaan: Good News
(Golden Harvest)
Five years after putting together 2 Tone, one of the last decade's most engrossing collaborative records, Shuta Hasunuma and U-zhaan returned in 2022 with Good News – a release that was even more focused on highlighting their respective talents. U-zhaan's tabla fidgeted across the disc, always an obvious source of technical skill, while Hasunuma's compositions spanned intricate electronics and engulfing ambient music. Just like its predecessor, it was another singular and mesmeric work. EC
Listen: Spotify, Apple Music
12.
Kaho Nakamura – NIA
(AINOU)
Fans had to wait a long time for Kaho Nakamura's follow-up to her celebrated 2018 release AINOU; after various stand-alone singles and a film score, her sophomore solo studio effort finally saw release this year. And NIA was certainly worth the wait. Nakamura's expansive and maximalist pop sound was as perfectly-measured as ever, again showing her distinct talent for crafting challenging pop without pretence. NIA crams so many ideas into so many complex layers of sound and yet still sounded uncomplicated and homely, a colourful celebration of an artist with an exceptionally well-honed sound. MG
Listen: Spotify, Apple Music
11.
Cwondo – Coloriyo
(Tugboat Records)
Cwondo's short solo career so far has already seen him establish himself as one of Japanese indie's most intriguing innovators. Coloriyo, just like 2021's Hernia and Sayounara, was another DIY work of delicate progressions and distinctive lo-fi compositions. Lead singles "Midori" and "1500" perfectly showcased Cwondo's ability to pair slick indie guitar riffs with fast-paced programmed drum fills, all while various vocal delivery styles and effects made use of his voice as its own instrument – a feature which is fast becoming a Cwondo trademark. Made distinct from past Cwondo releases by its nostalgic undertones, Coloriyo continued his indietronic explorations. MG
Listen: Spotify, Apple Music
10.
snowy: thermograph
(Retar Upas)
Music to seclude to; as the nights have grown longer again, so has snowy's thermograph EP come back into its own. Pitched as a musical expression of the blizzard landscapes of Moe Sasaki's native Hokkaido, her snowy debut saw her thrive as singer, songwriter, producer and multi-instrumentalist. But while thermograph was overspilling with technical accomplishment – from its rich ambient pop and orchestral wind passages to its garage beats – it was the record's overall atmosphere, its thoroughly peaceful and consuming wintriness, that lingered most. EC
Listen: Spotify, Apple Music
9.
MIZ: Sundance Ranch
(Space Shower Music / Jet Set Japan)
With their second album, MIZ continued to cultivate an alluringly individual indie-folk sound, at once simple and mysterious. Jumping from Vietnam to Hokkaido as a site of inspiration, Seijun Kato and Shukei Tamaoki channelled "country" into their music as something movingly spare; lyrics fell like lazy musings on "Shibafu [Grass]", the video for which beckoned an amusingly literal consideration of whether the other side really is greener. Restrained arrangements left space for the soft beauty of Kato's voice, but there was also a nuanced sense of melancholy conjured by Tamaki's repetitive guitar playing, somehow more conspicuous than it is lulling over the course of Sundance Ranch's ten songs. The duo briskly approach a sound as distinct as that of their inspirations. TR
Listen: Spotify, Apple Music
8.
RAY: Green
(Distorted)
Teased over the course of an entire year, the second full-length release from shoegaze idols RAY explored even further just how much the project's sound could buck convention. With the help of the likes of Ichiro Yoshida (Untouchable World, Zazen Boys), Shinda Boku no Ishikawa (My Dead Girlfriend) and Azusa Suga (For Tracy Hyde), Green blended noise pop and shoegaze with IDM, synthpop and pure chart pop. More than just a continuation of RAY's previous style, one shouldn't be surprised if, one day, Green ends up having reconfigured the potential of shoegaze in the pop sphere. EC
Listen: Spotify, Apple Music
7.
Keiji Haino & SUMAC: Into This Juvenile Apocalypse Our Golden Blood To Pour Let Us Never
(Thrill Jockey)
So many decades into his career, Keiji Haino's appetite for the untried and dissident remains as fresh as ever. Into This Juvenile Apocalypse... typified his continued hunger for experimentalism, a live collaborative record with North American metal group SUMAC that managed to combine the assuredness of master musicians with the kind of improvisation that left listeners hanging on every shift. It may be of little note in the overall career of Haino, but Into This Juvenile Apocalypse... was still one of the year's most thunderously heavy, tenderly gorgeous and beguilingly left-field pieces. EC
Listen: Spotify, Apple Music
6.
OMSB: ALONE
(SUMMIT)
The first album in seven years released by OMSB – of Japanese hip-hop label SUMMIT and member of the Kanagawa-based crew SIMI LAB – might've featured few guests, but it didn't need them: this was a dense album full of anthems that gently, subtly and sometimes ironically depicted society as through OMSB's eyes. "Hush", "Taishū [The Masses]" and "One Room" saw him write honestly about his personal life, including his own weaknesses, while in "LASTBBOYOMSB" he passionately expressed his love for hip-hop, naming the rappers and producers he most admires. Throughout it all, it was the humanity of OMSB's work that lingered most and made ALONE one of the most re-listenable albums of 2022. MY
Listen: Spotify, Apple Music
5.
Hikaru Utada: BAD Mode
(Sony)
At this point, no one would blame Hikaru Utada for cashing in; for settling back comfortably into one of their many well-established, era-defining, stratospherically-successful styles of R&B and simply doing their thing. Yet on BAD Mode Utada did pretty much the opposite: here they sauntered into some of the 2020s' most on-trend sounds and styles, opting for the rich, technical electronica of Floating Points, the slick hyperpop of A.G. Cook and the louder pop smashes of Skrillex, as well as the silky pop finesse of long-time collaborator Nariaki Obukuro. Coming in blind, you'd be forgiven for thinking this was Utada in their imperial phase – and it sort of is. Only that Utada's artistic mercuriality never really left them. EC
Listen: Spotify, Apple Music
4.
Kikagaku Moyo – Kumoyo Island
(Guruguru Brain)
After a decade together, Tokyo-based psych legends Kikagaku Moyo bowed out in 2022 with their fifth and final album, Kumoyo Island. Much like their previous works, it was a confident investigation into modern psychedelic rock music. Kumoyo Island experimented compositionally with its elements of folk; at its most accessible, it was uproarious; at its most psychedelic, it subdued into a drug-like trance. And throughout it all, despite capping-off the group's catalogue, Kumoyo Island wasn't concerned with self-aggrandisement or hagiography – it was a fitting finale. MG
Listen: Spotify, Apple Music
3.
Betcover!! – Tamago
(Self-released)
Yanase Jiro's quest to out-do himself, to make his jazz-rock more elegant, measured, bluesy and melancholic than ever before continued on his latest Betcover!! work, Tamago [Egg]. This was an album of spectacularly gorgeous builds and reverberant, abyssal falls, a record that, as a whole, undulated in longer-wave arcs of intensity and yet also, in its individual tracks, comparably arched from placid piano into the scrawling and knotty, the muscular and discordant. Each Betcover!! release thus far has leapt chasms of style from the last and Tamago was no different: here Jiro embraced sparer jazz styles and even folk, though firmly retained hold of an artistic identity founded on dynamism and diversity. Still in his early 20s and with several marvellous works under his belt, there are few – if any – more interesting and impressive young rock musicians than Jiro. EC
Listen: Spotify, Apple Music
2.
Perfume: Plasma
(Universal Japan)
Plasma was a full revival of Perfume in both form and style. Here Yasutaka Nakata was arguably more consistent, spellbinding and inventive than at perhaps any point since his work on Kyary Pamyu Pamyu's 2013 record Nanda Collection, channelling new wave and synthpop into his usual hyperactive dance-pop. The rest of Plasma was funky, glamourous and scintillating; a record as ripe for a dancefloor as Kashiyuka, A-chan and Nocchi's lyrics prompted futuristic dreaming and existential reflection. In all, this was a sheening, beaming statement of a work – and Perfume's mighty entry into a new decade. EC
Listen: Spotify, Apple Music
1.
Takuro Okada: Betsu no Jikan
(Newhere Music)
Takuro Okada's Betsu no Jikan [Another Time] succeeded on several levels. For Okada as an artist, it was a work of realisation; the culmination of several years of palpable, trackable growth. From the meticulous production and arrangements of Morning Sun through to the patient, engulfing ambience of Urban Planning, here Okada seemed to have used those albums as stepping stones, swallowing up their lessons and fashioning them into a single glorious work.
Another view of Betsu no Jikan sees it as something much more primal, fundamental, instinctive. It was simply an exquisite musical piece. Opening with an interpolation of John Coltrane's A Love Supreme and ending somewhere up, out in the cosmos, Okada's chose unbridled, unpretending spiritual jazz as his interstellar vehicle. With its light bouts of percussion, soaring horns and deep plunges of ambience, Betsu no Jikan was simply so skilled, proficient and confident. Within it, Okada was more than aware of his own talents in composition, arrangement and instrumental play – and in his ability to leave listeners in full knowledge of all those powers. A record thoroughly in its own lane, Betsu no Jikan was a fittingly singular favourite for a thrilling year. EC
Listen: Spotify, Apple Music